Arizona's employment level has almost equaled its pre-recession high with healthy job growth in October that cut the state's unemployment rate by half a percent, according to the Arizona Department of Administration.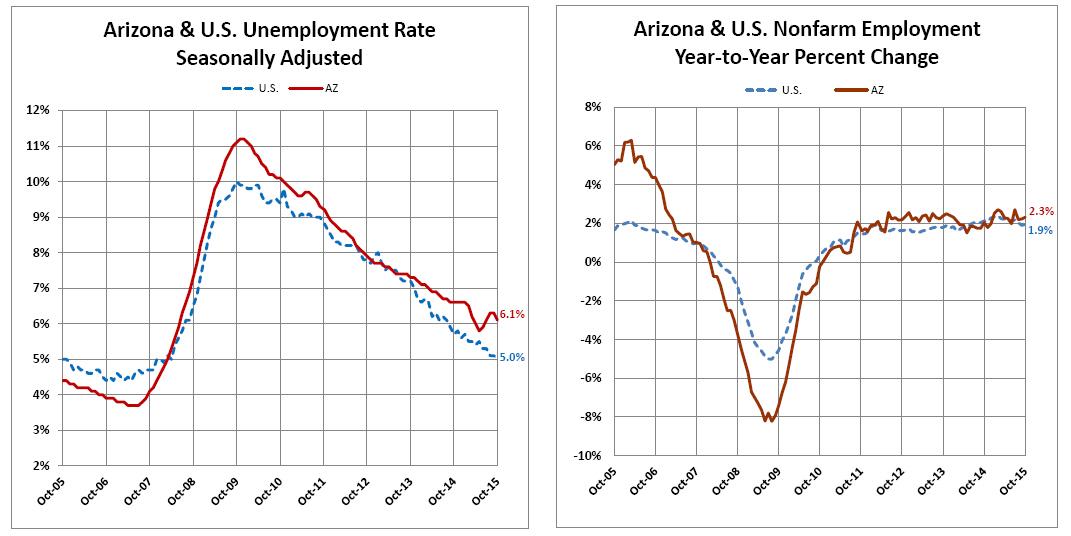 More than 60,300 jobs were added in October 2015 over last year, with an increase of 33,800 over September. The increase was greater than the post-recession average of 23,900 jobs month-over-month. The new hires dropped the unemployment rate to 6.1 percent from 6.6 percent last October.
The most hires over last year were in the education and health services sector, with 11,300 new jobs, followed by 11,200 in professional and business services. Trade, transportation and utilities gained 10,000 jobs over October last year.
All job sectors posted increases over 2014 numbers except natural resources and mining, which was down 1,000 jobs, and manufacturing, which was down 200.
Arizona continues increasing employment at a rate greater than the U.S. average. State job growth was up 2.3 percent in October, compared to the national job gain of 1.9 percent.
In the Phoenix metro, employment grew faster than the state average, hitting a 2.6 percent increase over October 2014. More than 48,000 jobs were added in the Valley, putting 1.9 million people on payrolls in the private and public sectors.
Construction had the biggest percent gain over 2014, adding 6,000 jobs in October for a 6.2 percent boost. Other services grew 3.8 percent; financial activities, and leisure and hospitality, both increased workforces 3.5 percent; and educational and health services was up 3.3 percent over October 2013.
In the Phoenix area, manufacturing lost 700 jobs and natural resources and mining jobs declined by 100. Heavy construction lost 400 jobs, while specialty trades gained 6,200.
All other sectors posted positive numbers.
Eric covers economic development, banking and finance, infrastructure, transportation and utilities.
By: Eric Jay Toll