Arizona's in-migration hit its second highest point since the recession. It is important news for businesses, like home builders, that are dependent on population increases to spur increased sales and comes after two years of declining migration.
Arizona is a long way from building its economy from new homes, as was the case over the last 50 years. The growth rate is still about half what it should be, but data from the U.S. Census Bureau shows that the rate of new move-ins is moving in the right direction after a couple of down years.
Nearly 251,000 people moved into Arizona from other states and countries. The combined in-migration of foreign residents was the top source for move-ins in 2014 with 38,246 setting up households in Arizona. California was the largest state contributing new population, sending Arizona 33,854 people. Texas, Colorado and Oregon round out the top five states.
Vermont sent the fewest new Arizonans, 111, and Rhode Island and Puerto Rico didn't have any of their residents move here.
In-migration was up nearly 11 percent in 2014 over 2013. The growth represents a 17 percent increase over 2010.
The largest post-recession in-migration came in 2011, when the numbers jumped 253,000, up 18 percent from 2010. The next two years saw migration decline to 226,000 in 2013.
There were several surprises in the states sending residents to Arizona. While large movement is expected between the Four Corners and Intermountain states, Georgia, Florida and Virginia sent record numbers west. Georgia, in fact, shipped 6,600 people, making it the 10th-ranked source for in-migration.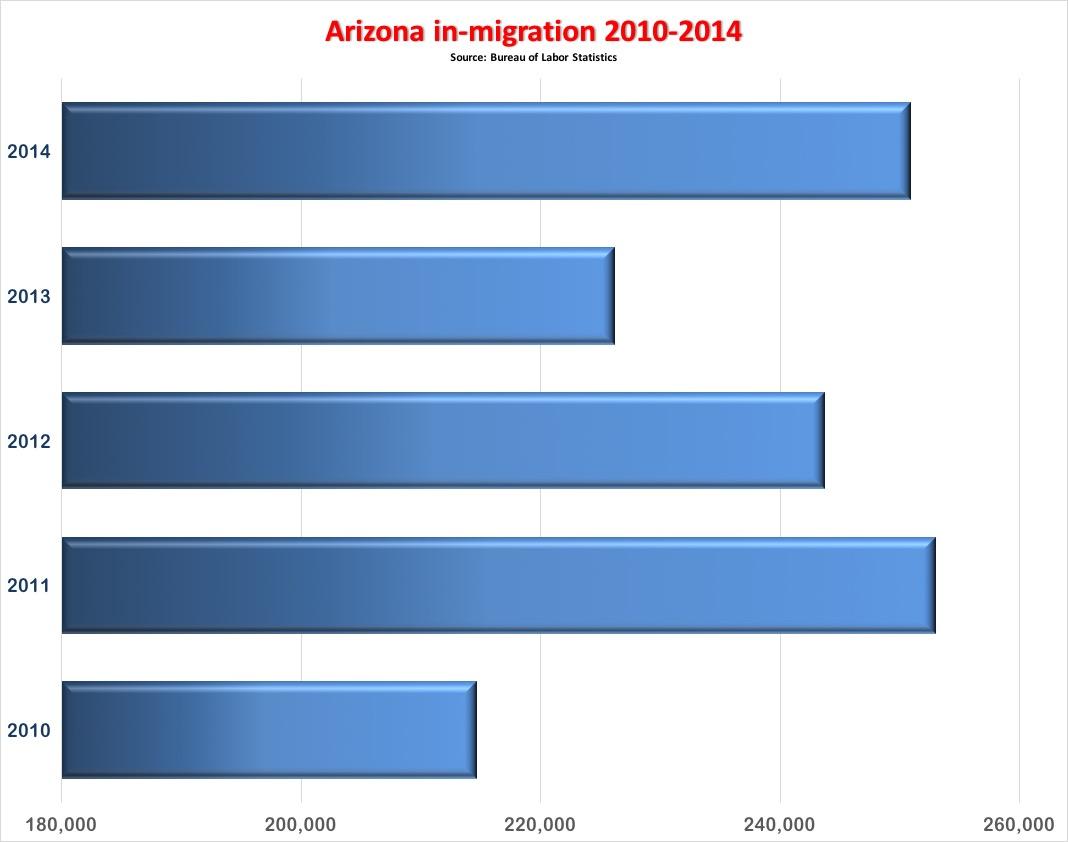 Top sources of in-migration to Arizona 2014
| Source | In-Migration |
| --- | --- |
| Foreign country | 38,246 |
| California | 33,854 |
| Texas | 16,521 |
| Colorado | 12,287 |
| Oregon | 5,264 |
| Washington | 5,971 |
| New Mexico | 6,117 |
| Nevada | 7,818 |
| Utah | 8,147 |
| Florida | 3,907 |
| New York | 2,649 |
| Georgia | 2,554 |
| Total | 250,826 |
By: Eric Jay Toll